Bond University, 2011:
Coastal Futures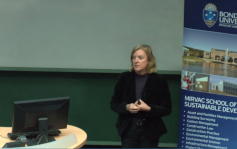 Dr. Wendy Proctor will explain why it is that this is an increasingly important area of research that needs to be addressed to ensure that adequate scientific knowledge is providing input into the demanding decision making tasks being encountered by coastal planners in local, state and federal government bodies.
Watch the video online.
ABC Rural Bush Telegraph, 2009:
Triple bottom line


The "triple bottom line" is the underlying accounting principle for achieving sustainability by taking into consideration environmental, social and economic measures when trying to assess natural resource management policies and procedures. The importance of this concept and the need to ensure its implementation is outlined here.
Read the article.
ABC Radio National, 2008:
Nature's Numbers


Since the CSIRO led Ecosystem Services Project was undertaken nearly ten years ago, awareness of the benefits of ecosystem services to human wellbeing and the sustainability of the planet have increased substantially throughout the world. In this interview, an overview of what ecosystem services are and why they are important is outlined as well as some of the research that was undertaken in the Ecosystem Services Project.
Go to the podcast.
ABC Stateline, 2005:
Can a citizen jury deal with Port Pirie's lead problem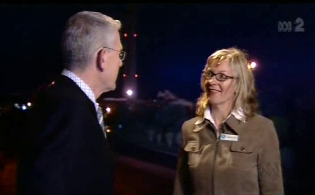 The Lead and Zinc Smelter at Port Pirie was facing a significant challenge as recent research into lead levels in children's blood in the town was indicating that this was impacting on their cognitive and learning abilities. Wendy Proctor was asked to lead a participatory project with the smelter managers and local townfolk using her Deliberative Multi-criteria Evaluation process to assess a suitable management scheme for the smelter in order for it to keep operating.
Canberra Times, 2000:
Forestry Decision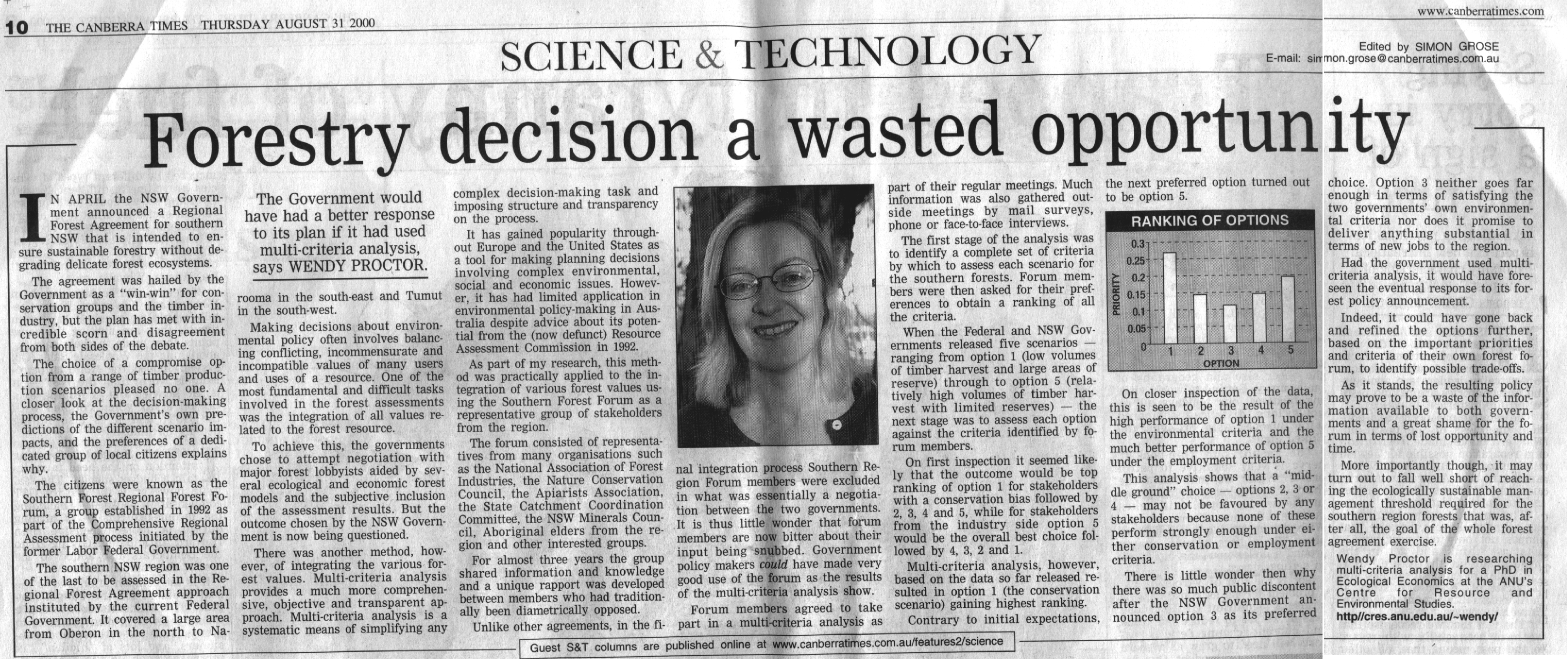 An overview is provided here of Wendy Proctor's PhD thesis into how Multi-criteria Analysis can aid environmental decision making and, in particular in this case, how it could have improved the decision process of the Regional Forest Agreement initiative for southern New South Wales.
Read the article.